Bride-To-Be
It's your special day. Everything should be perfect, just the way you want it to be. This includes the music program for your reception. What will be your first dance song? When will it be played? When will the Father/Daughter and Mother/Son dances take place? Who will be the emcee and make all of the announcements? No need to worry. Everything will be taken care of before your big day.
Online Client Resources

After sending your deposit, you will be given access to your private online client resources. They will be password protected so that only you can see them. Here you will be able to fill out a reception planner, listing every detail that you can imagine for your reception. All activities, their order of occurrence, and all dances can be listed on the planner. You can organize your reception exactly the way you want it to be. There is also a music database where you can create music request lists for your reception. You can make "Must Play", "Play If Possible", and "Do Not Play" lists. List all of your favorites. The music for your reception will be what you want to hear, not what I want you to hear.
Pre-wedding Meeting

A few weeks before your wedding date, I will get with you either by phone or in person, if that is possible, to go over the planner and any other details that I need to know for the reception. I will type up an itinerary for the reception in the order that you want things to go. At the reception, there will be no reason to constantly bother you and your new husband. You can concentrate on the happiness of your new life together. I will take care of the rest.
Games

Something that is becoming quite popular is the incorporation of games into wedding receptions, whether they be used as an ice-breaker for the guests or as a fun event for the bride and groom and their wedding party. I have a varied list of games, relays, and dance contests that can be mixed in with your other activities. If you would like to have a game during your reception, ask me about the ideas that I have. Or, if you already have a particular game in mind, tell me about it and I will work on getting it together for you. I will organize and emcee your game for you at your reception.
I have had the privilege of providing the music for over 250 weddings since I started in January of 2008.

I love what I am doing and I approach every wedding as an opportunity to have fun. I have had a lot of experience in a lot of different venues, so I feel very comfortable and confident in what I do. You can feel just as comfortable and confident in the musical entertainment for your wedding if you decide to hire me.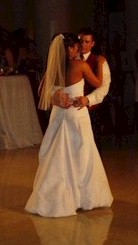 Do not hesitate to contact me if you have any questions.
I promise you will not be put on a list and harassed for your business. I will leave it up to you to make your final decision.
References Are Available From These Customers
See my storefront and client reviews on theKnot.com

24 5-star reviews so far!

And 10 more on WeddingWire!
See a list of venues where I have worked HERE.
Over 160 different venues so far!
"Party On A Budget" is fully insured through
Markel Insurance Company