Parties and Special Occasions
Whether you are celebrating a birthday, having a school dance or reunion, hosting a corporate event, or just want to have a party for no reason, "Party On A Budget" can handle all of your party's musical needs.
I have a wide selection of music ranging from the oldies all the way through the popular hits on the radio today. This includes plenty of music for slow dancing, fast dancing, or "booty" dancing, whichever you prefer. There is also plenty of easy listening and smooth jazz that can be used as background music for any special occasion. If country or southern rock is your preference, there is plenty of that also.
The standard package will provide plenty of sound and thump for most any party venue. Two light trees with an LED light bar on each tree are included if you need to light up the dance area. Additional party lights are also available. See the pricing page for more information.
Online Client Resources

After sending your deposit, you will be given access to your private online client resources. They will be password protected so that only you can see them. Here you will be able to fill out a party planner, listing every detail that you can imagine for your party. All activities, their order of occurrence, and any special announcements can be listed on the planner. You can organize your party exactly the way you want it to be. There is also a music database where you can create music request lists for your party. You can make "Must Play", "Play If Possible", and "Do Not Play" lists. List all of your favorites. The music for your party will include all of the songs that you want to hear. Your guests can also be given the ability to create request lists if you want them to. These lists will be available to you for final approval.
Games

Games are always a fun part of any party, whether they be used as an ice-breaker for the guests or just used as a fun event or maybe as a contest with prizes. I have a varied list of games, relays, and dance contests that can be mixed in with your other activities. If you would like to have any games during your party, ask me about the ideas that I have. Or, if you already have a particular game in mind, tell me about it and I will work on getting it together for you. I will organize and emcee your games for you at your party.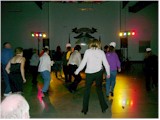 Do not hesitate to contact me if you have any questions.
I promise you will not be put on a list and harassed for your business. I will leave it up to you to make your final decision.
References Are Available From These Customers

See a list of venues where I have worked HERE.
Over 150 different venues so far!


"Party On A Budget" is fully insured through
Markel Insurance Company