Technical Stuff

Standard Package - $550
Audio-Technica wireless microphones
Two QSC K12 Powered speakers
(1-12" speaker, 1-horn each), 1000 watts capacity each
dbx Driverack speaker management system for precise room equalization to produce more pleasant and cleaner music levels
These speakers are professional quality with extremely natural and clear tones at high and low volumes. They also have a DEEP feature to enhance the bass "thump". QSC is an industry leader in Pro Audio.
If needed: Two light trees, each with an LED light bar, to provide lighting for the dance area when sufficient light is not available. Color choices are white, red, orange, yellow, green, cyan, blue, purple, and magenta or a changing combination of all of the colors. They have sound activated effects that will allow the colors to change with the beat of the music.

Large Package - $700
More sound and more thump when you need it!
Everything in the standard package, plus:
Two Eminence Bass Reflex subwoofers
(2-15" inverted speakers each), 900 watts capacity each
QSC 1450-watt power amp for subwoofers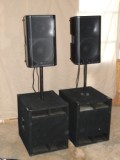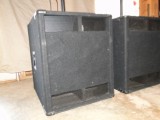 Karaoke Add-on
$125 for either package

Catalogs with over 15,000 popular songs to choose from

,


including many for teenagers and children

Floor monitor for singer (music and vocals)

15" LCD monitor for singer (lyrics)

Hookups for TV for audience (TV not included)
Why Professional Quality?
Professional quality sound equipment is vital when you want to deliver the best sound possible to your clients. I use only professional quality equipment because I want you to experience the same level of enjoyment that you would have gotten for a much higher cost with someone else. The speakers that I use are the same speakers used by a large local DJ company, so you can expect the same music quality from me that you would from them.
Any Questions?
Send Me a Message
I believe in backups!

I always carry a complete set of backup equipment, including laptop, music, speakers, microphones, mixer, and cables.
If an unexpected breakdown occurs, I want my clients to be assured that the show can go on without any major disturbance to their event. I don't believe in wasting a client's time trying to fix any problems at their expense. My motto is "Replace it now, fix it later!"

In my opinion, this is very important.