Optional Accessories
These decorative and party items are available and will be added to your final invoice. You can check the ones you want on the Quote Generator, which will come up if your date is available. I do not keep these items in stock. For your convenience, I will rent them for you and set them up for your event. Note that certain items may not be available for your event date due to whether or not the rental company has them in stock.


Up-lighting
Up-lighting gives an interior landscape lighting effect on walls or columns. This is a very nice effect for wedding receptions. Up-lights are available in any quantity and include your choice of color.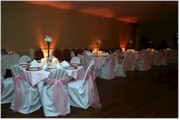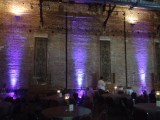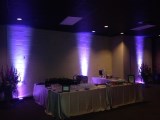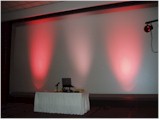 Par 56 LED up-lights - These lights are powerful, yet compact. The new LED lights are what all of the large lighting companies are using. They create a very nice effect on walls, columns, and ceilings and can be adjusted to any one of over 140 colors. See this color chart for the color selections. Use the Hue Ranges Map at the bottom of the page for groups of colors.
For areas where a power outlet is not available or not accessible, cordless LED lights are available. They are battery operated and will last up to 12 hours.

Corded Up-lights (quantity 1-6) - $30 each
Corded Up-lights (quantity 7 or more) - $25 each

Cordless Up-lights (quantity 1-6) - $40 each
Cordless Up-lights (quantity 7 or more) - $35 each

*NOTE - Up-lights require a $25 non-refundable deposit due to the ordering process from the rental company.

GOBO Lighting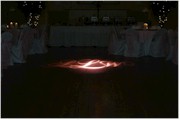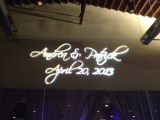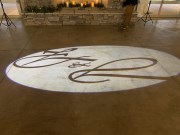 Project an image onto the wall, floor, or ceiling.
Design your own custom artwork. Artwork may include monograms, names, dates, and/or simple drawings. You can make it your own. All artwork needs to be submitted at least two weeks prior to the event date to allow time for creating your custom file and proof approval.
See this monogram design catalog for some artwork examples.

Custom Gobo (includes projector and art) - $200

*NOTE - A $50 non-refundable deposit is required due to the ordering process of the rental company.


Party Lighting Package
Moving light beams and lasers for club lighting effect on the floor, ceiling, and walls.
Create a dance club atmosphere by adding this effects package. Includes the LED Quest and the Galaxian by American DJ. These effects will spice up the party with beams of light and red and green lasers dancing around the dance floor.
$150